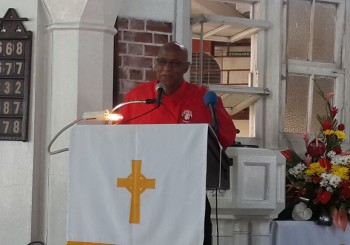 Today marked the opening of the Boys' Town 75th Anniversary year long celebrations.  Boys' Town came out in numbers to the Lyndurst Methodist Church at 23A Lyndurst Road to enjoy and partake in a monumental service to celebrate Boys' Town and it's three quarter century existence.  The day was led by Reverend Stephen Mullings who gave a sermon on looking back, looking within, looking around and looking forward.  In each instance we were encouraged to walk with the character of Christ in our hearts to help bring our country Jamaica to the level it deserves as a God blessed land.
We were also welcomed by Trevor Spence who explained to the congregation the relevance and importance of the Lyndurst Methodist Church and Boys' Town.  Mr. Spence thanked the Methodist Church for its involvement and also challenged the church and especially Reverend Mullings to remain involved in the lives of people, especially the youth, in Boys' Town.  A special challenge was given to Reverend Mullings to be the Chaplin of the Boys' Town football team, which was happily accepted by the Reverend.  Lessons were brought by Mrs. Yvonne Beckford-Hewitt and Romario Hall. We were also treated by a wonderfully uplifting performance by the students of Boys' Town All Age School.
The service was packed by a congregation of shared love between the supporters and members of the church and Boys' Town.  We all left church blessed and highly favored.
Take some time and check out our pictures and video of the service below and on our media page.